Clinics/Videos for Sale
Tack Fitting Clinics – Canada Dude Ranch Vacations
Conformation, Saddle & Tack Fitting Clinic 2 Days
Your instructor and host for these weekends will be Tim Barton. Tim has Bachelor Degrees in both Science and Education and taught Equine Comparative Anatomy at Olds College for over 20 years.  Tim has made his living as a teacher, farrier, and guide/outfitter, and is the owner and head honcho of The Outpost at Warden Rock.  He has over 35 years of hands on experience in Outfitting, Packing, Driving and Riding in the wilderness.
His diverse and interesting background enables him to draw on many resources when sharing his knowledge and experiences with his students.  Besides being a fascinating and informative speaker and teacher, Tim can "tell tall tales" with the best of 'em.
If you can't get him personally, you can also purchase his Video. Conformation, Saddle & Tack fitting Part 1 & 11 is available for $49.95 in DVD format.
For more information about his clinics and videos, please contact us at 403.762.2767 or email us at info@outpostatwardenrock.com .
What You Will Learn
This two-day clinic involves an in-depth study of equine conformation relative to use and soundness. Participants also receive individual help in fitting tack to their equine.
Day one deals specifically with learning how to assess conformation in each animal. Participants gain a basic understanding of equine anatomy relative to working ability and learn how to spot abnormalities.
Day two deals directly with fitting tack to the participant's animals. The correlation between understanding individual conformation and fitting and positioning tack for optimum performance will become obvious. This gained knowledge is beneficial to ALL riding disciplines.
Animals who have shown "behavioral'' problems such as head tossing, crankiness, bucking between transitions, or were high headed or short strided show immediate changes in movement and attitude once their tack is fitted to their conformation and positioned properly.
The use, function and fit of other tack such as packsaddles, harness, halters, saddle pads, breast collars, britchens, front and back cinches, etc. will be covered. Tim will work individually with each participant and where possible will work with the tack they presently own to attain the best fit for their animal.
This clinic will teach participants invaluable knowledge that will reduce guesswork, eliminate "trial and error'' plus hours of frustration in their search for saddles and tack that will fit their animals. Relying on friends or store clerks for tack fit help will be eliminated. Participants will know what to look for and save themselves invaluable time and money.
Ultimately, the equines that benefit from this clinic will thank their owners.  They will demonstrate increased performance and enhanced well-being.
At one time Tim maintained a large string of mules for packing, because of their superior hardiness.  He now also uses them for driving and hauling in supplies in freight wagons. Mules or horses are used to pull the Stagecoach that transports guests to The Outpost.  Most of his animals are used for riding, packing and driving.  Tim is very knowledgeable in SADDLE, PACKSADDLE and HARNESS Fit. He has learned his fair share of knowledge academically, from "old-timers'' and the rest he has learned from trial and error. He shares his knowledge in a humorous and passionate way that leaves no room for doubt. All statements are backed up with proof and no question will go unanswered. Participants won't believe what they see and what they learn.  SEEING, IS BELIEVING!
Clinic participants may find it beneficial to attend more than one clinic if available.  Each clinic is unique in that participating animals bring individual conformation and tack fitting challenges.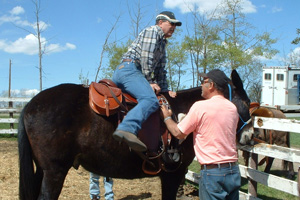 Saddle & Tack Fitting Clinic Fees 2 Day
$1350 + gst,
+ Food and lodging for Tim and his assistant (doesn't need to be a hotel, and home-cooking is just fine!).
+ Mileage at $.50 per kilometer from Banff, Alberta.
+ 50 % of auditors fees if applicable.
It is recommended that the Clinic Host secure a suitable facility and take registrations and deposits for the clinic. Individuals, Clubs and Breed Organizations may book clinics. Where possible we will strive to work with each individual or group to accommodate circumstances. Lunch should be provided or participants asked to bring a bagged lunch. A riding arena and a meeting room are recommended but other facilities can work. Winter clinics should have a heated building available. Stabling may be necessary for some participants and should be made available. Tim carries his own liability Insurance, but it is recommended that participants also have Equine Insurance.
Suggested clinic fees for individual participants are:
$100 – $150 for the two days if bringing one animal, (add extra for additional equines)
Suggested minimum of 10 participants with animals, up to a maximum of 16 with animals.
Auditors can be unlimited OR you can limit the number. Suggested auditor fee is $30 to
$50 per day with 50% of the auditor's fee payable to Tim.
If you have any concerns or questions, or suggestions for other booking arrangements, please don't hesitate to give us a call. Our desire is to educate owners and alleviate all tack fitting problems that many of us have struggled with for so long. There are answers to these problems and help for our equines.