Activities
Hi, I'm Tim Barton.  I've been an outfitter for over 40 years, and I haven't lost anyone yet!  Let me tell you a bit about our quiet little place in the middle of the Canadian Wilderness and activities.  Pictures cannot do this high country justice and you have to see it to believe it!
Speaking of pictures….
That's me looking at my better half and partner, Julie Leavens.  I was looking at her so adoringly in this picture….or as she jokes maybe I was just looking at something caught in her teeth! Regardless, I have learned over the years to not mess with a redhead.  She gives me a ton of credit and thinks I am a multi-tasker (no small feat for a guy).  Yep, I can ride and piss her off at the same time!
The Outpost is west of the Ya Ha Tinda Ranch, near the headwaters of the Red Deer River. From the Bighorn Campground to our camp we're a short 10 miles/16 kilometres, or 1.5 to 2 hours, by stagecoach across the Ya Ha Tinda (depending on who is driving)!  Good thing there are no motorized vehicles permitted on the ranch so there is no traffic problem to fight. We use teams of two to six horses or mules to pull our stagecoach or wagons.  The long ears have led to some interesting signage around The Outpost!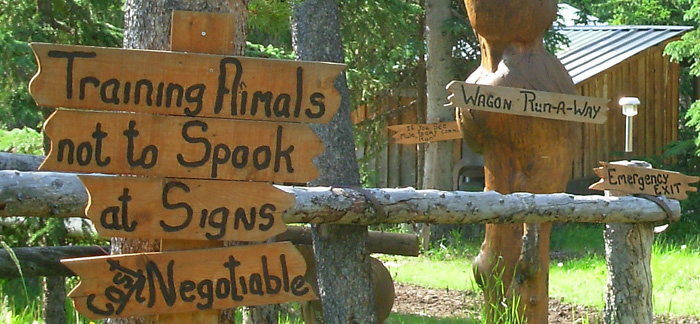 If you are riding, walking, or mountain biking out on your own, don't let the elk lead you astray.  Just kidding, there are actually several trails heading west, that you can take to get to us.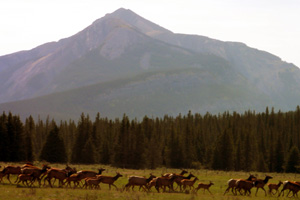 Now, about The Outpost!  No light posts, sidewalks, police or power lines, just plenty of character, and a few characters.  If you want the chance to awaken all your senses to the activities and wonders of nature, this is the place to kick you back a notch!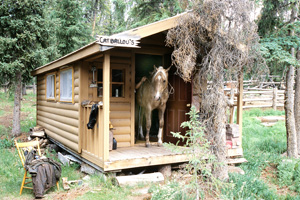 Hear, the wind rustling though the pines and the Red Deer River tumbling over the rocks. 
See, wildlife like deer, elk, coyote, wolf, grizzly and mountains reflecting the changing light of day.
Smell, bacon sizzling, and the fresh aroma of mountain flowers.
Taste, cool, clear, clean water, and awesome country home-cooking.
Feel, the warmth of a good fire, the rush of cold mountain air, and the velvety muzzle of a horse's nose.
What activities do we do here?  "Little or nothing". The fresh air usually wrings people out on the first day, and makes things really easy for us!  Actually you get to pick and choose your own day – there's no schedule here; time enough for that back home.
Hiking is limited only by your stamina.  Picture taking opportunities are everywhere.  Bring your favourite pole for rainbows and be sure to have a licence. Trail riding is great.  All of our horses are specifically trained for their jobs and used to travelling various terrains from the turquoise waters of the Red Deer River, to the golden meadows of the Ya Ha Tinda and the pine forests and pulsing waterfalls in Banff National Park. For the experienced rider, we can really mile in style on our gaited mountain horses ! They are comfy to ride even after 25 miles.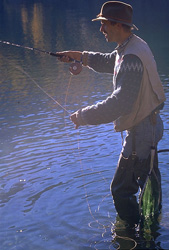 We've got some great packages for you to choose from this year.  You'll find that information under the All Inclusive Holiday,Stagecoach and Guided Horseback Holidays, Bring Your Own Horse and Daily Getaways headings of this website. 
If you're not too tired from looking at the mountains, flowers (got lots of yellow gal' dang things, white ting-a-majigs, purple what –nots) and a host of semi-wild animals, i.e. deer, moose, elk, coyote, staff, and our two dogs (or is it three?), there are activities and horses for riding, packing and driving. We've got a bunch of mules for driving.  We have used mules for riding, but the staff started learning from them, so we got rid of most of them (the mules that is, had to keep the staff)!  Mules are never where they are suppose to be except at meal times, something like the people around here!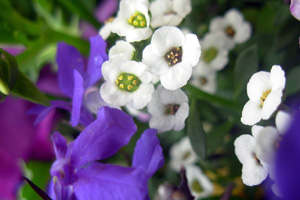 Speaking of meals, you get great home cooking, done to perfection.  Out here anything tastes delicious.  If you want to help, you're welcome to it; playing in the kitchen is always fun.  Seriously though, we serve you meals you'll remember, especially if I cook 'em!  Breakfast can be early or as late as you like, but if you want breakfast in bed, you had better sleep in the kitchen!  Lunch and dinnermay be taken on the trail, out on the chuck wagon, in the lodge, out on the deck or by the fire pit…that way you don't have to excuse yourself from the table!
At the end of the day after you've washed off the trail dust from your activities, it's time to soak in the hot tub under the night sky before retiring to your cozy cabin for a night of peaceful sleep.  Sometimes, if you're lucky, you'll hear the rain on the tin roof.  Lots of wood is skidded and sawed to keep your stoves fired up and the cabins toasty.  Bring the wife, husband, girlfriend or boyfriend and you will find it a lot easier to keep warm than fooling with that wood!  From the time the sun rises over Warden Rock until the soft glow of your coal oil lantern lights the night, you'll have lived in harmony with nature.
The folks that work here know their jobs and are more than willing to answer questions to help you enjoy the experience of wilderness living.  There are always chores to do, with the horses to feed, water and care for, wood to chop, fires to stoke, and meals to cook.  What I'm saying is we sure don't expect you to do anything more than rest and relax, but if you want to participate in the life, feel free to pitch in cause it sure makes me feel good to see other folks do my job!
We want to share the wilderness with you in an easy going manner in a home away from home setting. If I told you any more about the beauty, peace and quiet, and fun in this place, you wouldn't believe it! Come join me in my backyard, and see it for yourself.
Tim Barton
Ghost of the Rockies!