Wild West Spa Escape
Horseback Vacation Wild West Spa Escape
Horseback Vacation Wild West Spa Escape, the ultimate in a co-ed fitness retreat combining our lifelong passion for horses and enhanced well-being. Endless opportunities to replenish mind, body and soul!  Yoga, Pilates, hiking, therapeutic massage, healthy living seminar, and gourmet low-fat, delicious meals, as well as everything included in the Horseback Adventure Package plus a few extras!
Wild West Spa Escape 5 days
Our Mind, Fitness & Health Retreat
August 17-21, 2023
This program is perfect for you if you are…
looking to get away from the hustle and bustle of your everyday life and enjoy an action- packed yet kickback weekend?
looking for balance in your life!
wishing you could combine your passion for horses, hiking and healthy living!
wanting to rid your life of stress?
just needing a mini-vacation and want to do it in the pristine wilderness with Banff National Park as your backdrop and at a backcountry lodge with all the comforts of home!
wanting to rejuvenate, renew, and rekindle your energy and spirit!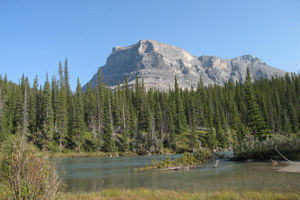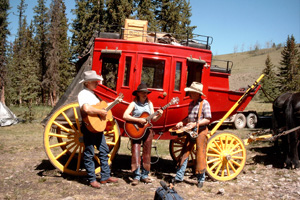 Julie Leavens BSc (Kin), RMT owner of Benefits Fitness Inc. in Banff, Alberta will lead this 5 day retreat, Horseback Vacation Wild West Spa Escape, at The Outpost! A certified personal trainer, pilates/fitness/strength professional and registered massage therapist, Julie has been motivating her clients since 1987 to achieve optimal health and wellness in their lives.  This retreat is your opportunity to personally experience Julie sharing her motivation, energy and passion for fitness, health, horses and the great outdoors.  It is your chance to learn something new, embrace what you already know, and endeavour to be the best you can be!
This is what you'll get:
Organized Hiking & Boot Camp sessions (getting breathless at least once per day is our motto)
Yoga and Pilates classes for strength and suppleness and Morning Meditation to calm the body and ease the soul
Body Fat and Postural/Muscular Imbalance Analysis
Fat Attack:  Winning at the Battle of the Bulge  Seminar
1 hr Therapeutic, Hot Stone, or Relaxation Massage
Guided Horseback Riding like you have never experienced before
Roundtrip horse-drawn stagecoach transportation to our little bit of heaven bordering Banff National Park and the Ya Ha Tinda Ranch, 3 nights cozy cabin accommodation, all scrumptious, hearty and healthy cuisine included
An evening of Country Music entertainment by the campfire and under the stars
Complimentary gift certificate for 60 minute Pilates Reformer session at Julie's studio in Banff, Alberta
– September 1, 2019
August 17-21, 2023
click here for currency converter
Prices quoted are per person in Canadian dollars. Taxes not included.
Groups of 5 or more receive a 5% discount when booked together. Please see Policies.
Additional massage available with advanced registration at $85 p/hour.
Don't Delay Sign up now only 8 spots available!
Women only…check out our Chicks in the Sticks 4 day retreat program, July 21-24, 2023 for just $3180.  Taxes additional.
Please call 1-403-762-2767 or email us at julie@outpostatwardenrock.com if you have any questions or are interested in attending our Horseback Vacation Wild West Spa Escape.